For other uses of the word "sword," see Sword.
A Crown of Swords (abbreviated as aCoS by fans) is the seventh book of The Wheel of Time. It was published by Tor Books and released on May 15, 1996. It is 880 pages long.
Plot summary

A Crown of Swords has three primary plotlines:
Rand al'Thor, the Dragon Reborn, prepares to attack the Forsaken Sammael in Illian while enjoying life with his lover, Min Farshaw, and attempting to quell the rebellion by nobles in Cairhien. He also establishes control of the Aes Sedai who vowed to serve him. In the end, Rand, accompanied by Asha'man, attacks Illian and defeats Sammael in a duel of the One Power in Shadar Logoth. Rand then takes the crown of Illian, formerly the Laurel Crown, but now called the Crown of Swords.
Egwene al'Vere and Siuan Sanche attempt to manipulate the Aes Sedai rebels in Salidar to move against Elaida a'Roihan's Aes Sedai in the White Tower in Tar Valon. Lan Mandragoran is found, and Egwene sends him to help Nynaeve al'Meara in Ebou Dar.
In the city of Ebou Dar in Altara, Elayne Trakand, Nynaeve, and Mat Cauthon search for a ter'angreal, the Bowl of the Winds, to break the unnatural heat brought on by the Dark One's manipulation of climate. They are accompanied by Aviendha, Thom Merrilin, Juilin Sandar, and Birgitte Silverbow. They find it and enlist the help of the Kin and the Atha'an Miere, or Sea Folk. They also confront a gholam.
E-Book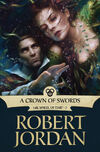 The e-book of A Crown of Swords was released on April 20th, 2010. The cover, created by Mélanie Delon, depicts Lan saving Nynaeve from drowning. The new e-book cover released around March 2013 is created by Tyler Jacobson and depicts Rand's first meeting with Cadsuane Melaidhrin.
Statistical Analysis
See also the full statistical analysis for this book.
A Crown of Swords consists of a prologue and forty-one chapters. These chapters are split up into thirty-one different points of view.
| POV | % | Chapters |
| --- | --- | --- |
| Matrim Cauthon | 17.77% | Ch14, 16, 53% of Ch17, 41% of Ch21, Ch28, 95% of Ch29, and Ch37 through 39 |
| Egwene al'Vere | 14.93% | Ch 8 through 12 |
| Perrin Aybara | 14.00% | Ch1 through 6, and Ch27 |
| Rand al'Thor | 12.62% | Ch7, 18, 33, 34, and 97% of Ch41 |
| Nynaeve al'Meara | 6.07% | 59% of Ch21, Ch23, 65% of Ch24, and 63% of Ch31 |
| Min Farshaw | 5.64% | 26% of Ch19, Ch35, and 36 |
| Elayne Trakand | 4.24% | Ch22, 73% of Ch30, and 37% of Ch31 |
| Sevanna | 3.67% | 27% of the Prologue, 75% of Ch20 and 28% of Ch40 |
| Elaida do Avriny a'Roihan | 3.37% | 33% of the Prologue, and 48% of Ch32 |
| Morgase Trakand | 2.95% | Ch26 |
| Aviendha | 2.66% | Ch13 |
| Moghedien | 1.71% | Ch25, and 27% of Ch30 |
| Merana Ambrey | 1.39% | 67% of Ch19 |
| Jaichim Carridin | 1.17% | Ch15 |
| Seaine Herimon | 1.12% | 49% of Ch32 |
| Galina Casban | 0.93% | 42% of Ch40 |
| Alviarin Freidhen | 0.88% | 12% of the Prologue, and 3% of Ch32 |
| Pedron Niall | 0.80% | 12% of the Prologue |
| Gawyn Trakand | 0.68% | 10% of the Prologue |
| Joline Maza | 0.53% | 21% of Ch17 |
| Reanne Corly | 0.53% | 35% of Ch24, and 5% of Ch29 |
| Falion Bhoda | 0.51% | 21% of Ch17 |
| Maeric | 0.39% | 18% of Ch40 |
| Moridin | 0.39% | 25% of Ch20 |
| Eamon Valda | 0.38% | 5% of the Prologue |
| Graendal | 0.19% | 8% of Ch40 |
| Cadsuane Melaidhrin | 0.15% | 7% of Ch19 |
| Noal Charin | 0.11% | 5% of Ch17 |
| Narrator | 0.08% | 2% of Ch41 |
| Shaidar Haran | 0.08% | 4% of Ch40 |
| Quote | 0.06% | 1% of the Prologue, and 1% of Ch41 |
---