Cobra Kai Season 4 - The Loop
Play Sound
Couladin was a warrior of the Domai sept of the Shaido Aiel and the Seia Doon warrior society.[1]
Appearance
He is described as tall and broad-shouldered, with flame-colored hair.
History
He was one of the Seia Doon or "Black Eyes."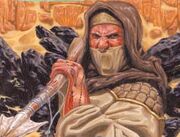 Activities
After Suladric, clan chief of the Shaido, died, Couladin went with his brother Muradin to Chaendaer, so that Muradin might gain permission to enter Rhuidean to become clan chief.
His first encounter with Rand al'Thor had him coming to blows with the Dragon Reborn before the Wise Ones interfered and sent Couladin back to the Shaido tents.[2]
When both Rand and Mat Cauthon returned from Rhuidean without Muradin, Couladin attacked them saying they killed him but when he spied the Dragon markings on Rand's arms he left with the Shaido very angry and very quickly.[3]
Now the de facto clan chief of the Shaido, Couladin was turned away at Cold Rocks Hold by Lian, wife of Rhuarc and sister-wife to Amys and roofmistress of the Hold. He left in anger and later that night took the Shaido north to Alcair Dal. When he arrived there he showed his 'markings,' which Asmodean gave him, to the other clan chiefs and lied about what is seen in the rings in Rhuidean.[4]
This led to the chiefs siding with Rand, who ultimately told the truth. Outraged, Couladin once again moved the Shaido, this time towards Jangai Pass, on his way out of the Three-Fold Land into Cairhien. Along the way he and the renegade Shaido captured "wetlanders" and made them gai'shain, a move that did not sit well with the other clan chiefs.
When Couladin finally made it to Cairhien, he and the 160,000 Aiel spears he commanded lay siege to the city. A chance encounter between Mat's army and Couladin's band of Shaido led to a deadly fight between the two that saw Couladin dead at Mat's feet.[5][6][7]
Notes
Major Characters
Protagonists

Main:

Rand al'Thor · Mat Cauthon · Perrin Aybara · Egwene al'Vere · Elayne Trakand · Nynaeve al'Meara


Primary:

Aviendha · Faile Bashere · Min Farshaw · Tuon Athaem Kore Paendrag · Moiraine Damodred · Lan Mandragoran · Loial · Birgitte Silverbow . Siuan Sanche · Thomdril Merrilin

Antagonists

Dark One · The Forsaken (Ishamael/Moridin, Lanfear/Cyndane, Demandred, Graendal/Hessalam, Moghedien, Sammael, Mesaana, Balthamel/Aran'gar, Aginor/Osan'gar, Semirhage, Rahvin, Asmodean, Be'lal, Mazrim Taim/M'Hael) · Black Ajah (Galina Casban, Liandrin Guirale, Alviarin Freidhen, Sheriam Bayanar, Elza Penfell, Falion Bhoda) . Darkfriends (Jaichim Carridin, Suroth Sabelle Meldarath, Mili Skane, Doilin Mellar) . Shadowspawn . Padan Fain/Ordeith . Slayer

Others:

Shaido (Sevanna, Couladin, Therava) · Whitecloaks (Pedron Niall, Eamon Valda, Rhadam Asunawa) · Masema Dagar . Sharans · Elaida do Avriny a'Roihan


Major Allies

Cadsuane Melaidhrin · Verin Mathwin · Leane Sharif · Pevara Tazanovni · Yukiri Haruna · Saerin Asnobar · Seaine Herimon · Romanda Cassin · Lelaine Akashi · Myrelle Berengari · Teslyn Baradon · Alanna Mosvani · Merana Ambrey · Sarene Nemdahl


Logain Ablar · Androl Genhald · Jahar Narishma · Damer Flinn . Eben Hopwil · Fedwin Morr · Karldin Manfor · Naeff · Algarin Pendaloan


Amys · Bair · Melaine · Rhuarc · Sorilea . Gaul · Bain · Chiad


Egeanin Sarna · Alivia · Furyk Karede · Tylee Khirgan · Bethamin Zeami · Abaldar Yulan


Westlands Rulers:

Morgase Trakand · Berelain sur Paendrag Paeron · Darlin Sisnera · Dobraine Taborwin · Alliandre Maritha Kigarin · Alsalam Saeed Almadar · Amathera Aelfdene Casmir Lounault · Beslan Mitsobar · Easar Togita · Ethenielle Cosaru Noramaga · Paitar Nachiman · Roedran Almaric do Arreloa a'Naloy · Tenobia si Bashere Kazadi · Tylin Quintara Mitsobar · ·


Other Allies:

Olver · Gawyn Trakand · Galad Damodred · Juilin Sandar · Bayle Domon · Rodel Ituralde · Elyas Machera · Davram Bashere · Sebban Balwer · Gareth Bryne · Martyn Tallanvor · Lini Eltring · Dyelin Taravin · Agelmar Jagad · Aludra Nendenhald


Places | Items | Timeline | Concepts