A paralis-net is a type of ter'angreal set device first created during the Age of Legends. Specifically, it is a ter'angreal platform on which a group of angreal and ter'angreal can be worn and/or used together as a complete set.
Semirhage reveals the name of such a set as a paralis-net.[1]
Appearance
Paralis-nets seem to come in all different shapes. Cadsuane Melaidhrin owns one, which is a set of golden ornament-like angreals and ter'angreals that is worn in her hair.
Cadsuane's set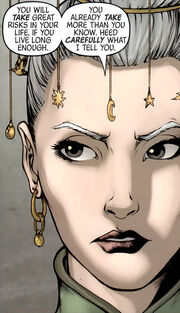 Cadsuane's golden set includes the following:
Cadsuane herself affirms that she does not know the purpose of some of the components[6]. But we know from the fight against Semirhage[7] that Cadsuane has a ter'angreal that disrupts weaves at close proximity. So one of the last three ornaments has this function.
Nynaeve's Set
The ter'angreal jewellery defence set that Nynaeve al'Meara wears usually is also possibly a paralis-net. Although not worn in her hair, Nynaeve's set of jewellery has parallel functions to that of Cadsuane.[8]
Nynaeve's set includes:
Nynaeve's set includes more golden rings and bracelets, adorned with precious gems and a long gem-studded necklace, that matches them[10]. It is not known the function of them. But from the fight between Alivia (who was wearing the set) and Cyndane[2], we know that one of this ter'angreal has the same function of Mat's Foxhead medallion and Cadsuane's golden crescents causing flows direct to the wearer to dissipate and also warning that someone closing is embracing the Power.
Others
Since Lanfear was always described wearing silver pendants in the shapes of moons and stars, it could be guessed that also this female Forsaken owned a paralis-net set until she died in Sindhol.
Rand al'Thor, after gaining all the memories of Lews Therin Telamon, also remembers wearing the original male version of a paralis-net.[11]
Use
The overall use of a paralis-net greatly varies. Generally, they seem to do the best to cover all angles and needs that the wearer may have, such as having one ter'angreal to act as a Well and another one to detect the channeling of saidin.
Notes