"... battles are always hot, even in the snow. Sweat heat. Blood heat. Only death is cool. Slope of the mountain ... only place didn't stink of death. Had to get away from smell of it ... sight of it ... heard a baby cry. Their women fight alongside the men, sometimes, but why they had let her come, I don't ... gave birth there alone, before she died of her wounds ... covered the child with her cloak, but the wind ... blown the cloak away ... child, blue with the cold. Should have been dead, too ... crying there. Crying in the snow. I couldn't just leave a child ... no children of our own ... always knew you wanted children. I knew you'd take it to your heart, Kari. Yes, lass. Rand is a good name. A good name."
   —
Tam al'Thor
External summary
EWoT
TarValon.net
Summary
Point of view: Rand al'Thor
Rand drags Tam towards Emond's Field on a litter in the woods along the Quarry Road. At one point he has to hide from a party of twenty Trollocs led by a Myrddraal. During the journey, Tam talks feverishly, reliving old battles and finding Rand during the Blood Snow. He talks about Kari al'Thor, Rand's mother, who died fifteen years ago. He raves about the Aiel War and Laman's sin, the field at Marath and Cairhien burning. Rand heads through the woods toward the village. While the Fade and its group pass by, Rand can feel the evil emanating from the dark creature. Tam cries out more about Avendoraldera, the cutting of Avendesora that grew for five hundred years before King Laman cut it down. In some stories, Avendesora belongs to the Green Man. Tam also shouts about how pleased Kari will be that he found Rand on Dragonmount. Stunned, Rand wonders who he really is.
Characters
Referenced
Groups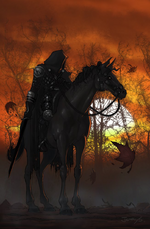 Referenced
Places
Referenced
Items
Referenced
Events
Referenced
Concepts
Culture
Songs
The Westwood

The Eye of the World/Chapter 6
Community content is available under
CC-BY-SA
unless otherwise noted.